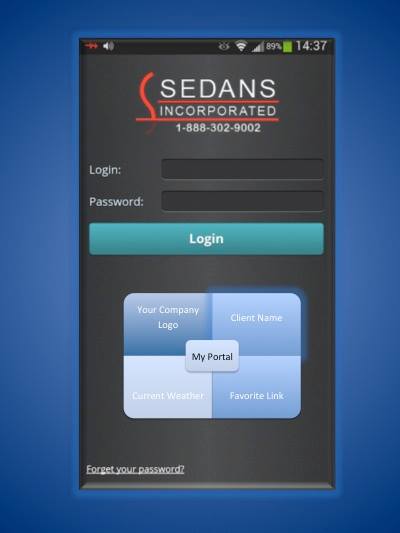 MEET "MYRIDE"! Our new customer APP launching in early 2014 will change the way you use livery service forever.
It all starts at your personalized screen which can be customized as a mini travel assistant right in the palm of your hand. See what personalized service can do when combined with intuitive use of technology. We can't wait for you two to meet!
Does YOUR Transportation Company do THIS?
Security doesn't stop after you leave our vehicle. Our redundant servers are spread all over the world and take advantage of the latest in encryption technology. Sedans, Inc. remains one of the few PCI Compliant companies in our industry which insures the data you share with us will remain within our "virtual walls".
Considering the recent stories of sensitive information leaking from certain online vendors, rest assured that we treat your data as if it were our own. Our team has consistently kept this data safe for over 16 years as we set the benchmark standards for Best Practices in this area. Our competitors often overlook this important aspect of the client relationship and often try to emulate but rarely duplicate our level of success.
There are a ton of technology companies streaming on to the scene claiming all sorts of advancements in transportation. As you have probably read, without proper screening, licensing and insurance requirements the end result can be disastrous.
A Sedans, Inc. Chauffeur is the cornerstone of our consistent service. Throughout our network, we demand strict standards and require full background checks of all employees. Besides, it is bad form to not put a face to a name. At Sedans, Inc. we take that literally and bring the face of your Chauffeur right to your APP. Along with his/her phone contact, email and background information you will probably know more about your driver than you do your Admin.
This added tool to your travel arsenal is another reason cutting edge technology means nothing without the people behind it.
We are "UBER" excited about this new feature!
With our new Apps we had everyone in mind. Like our clients, our Chauffeurs now have all the advantages right at their fingertips. They can pull street maps, dispatch messages about your ride, track flights and messages about your every request. They can do all of this but never while the vehicle is in motion. Safety is our number one concern and driving safely is what we are all about. Sedans, Inc. applauds the Don't Text and Drive initiative and we back it up by locking all features while the car is in motion. After all, getting to your destination on time is important, but getting there safely is our primary concern!
Does YOUR Transportation Company do THIS?